Highpointing – reaching the highest point in every U.S. state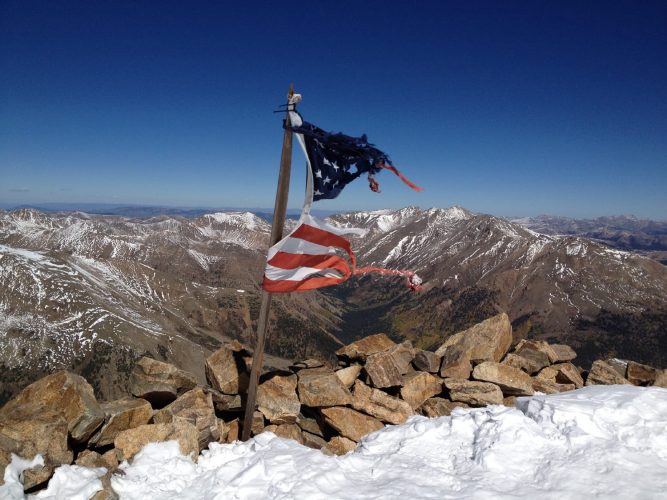 Highpointing: Reaching the highest point in each of the 50 U.S. states
I stumbled across highpointing shortly after climbing Mount Rainier in June 2008. It was more of an online stumble than a physical stumble, but, believe me, I do plenty of both. I don't recall exactly how I discovered the official group of highpointers, but I was researching something about Mt. Rainier and I came across this curious group that was all about reaching the high point in every state in the U.S.
That's precisely what highpointing is – traveling/walking/hiking/climbing your way to each individual natural high point in either 1) each of the lower 48 U.S. states or 2) all 50 U.S. states, including Alaska and Hawaii. The true definition differs slightly depending on personal preference and/or who you ask.
U.S. state highpoints vary widely in many respects, some are very high peaks like Alaska's Mount Denali (20,320 ft.) and California's Mount Whitney (14,505 ft.), some require climbing on glaciers like Washington's Mount Rainier (14,411 ft.) and Oregon's Mount Hood (11,239 ft.), some are true wilderness experiences like Wyoming's Gannet Peak (13,804 ft.), some are simple hills like Ohio's Campbell Hill (1,550 ft.) and some have limited access like Illinois' Charles Mound (1,235 ft.).
Each is challenging in its own way. Sometimes getting to the highest natural point in a given a state requires physical endurance, sometimes good map skills are necessary and other times being able to navigate old, confusing logging roads or other hazards is essential. In one way or another it's always an experience.
See also: Map and List of all U.S. State Highpoints
A brief history of highpointing
Back in 1936, a Washington state resident by the name of Arthur H. Marshall became the first to climb all 48 state high points. What was Marshall's final and 48th highpoint? Indiana's Hoosier Hill (1,257 ft.).
Michigan resident Rowland Stebbins then repeated the accomplishment 14 years later in 1950 after standing atop Mount Marcy in New York as his 48th highpoint.
An official Highpointers Club now exists for those who wish to learn more or get involved – visit highpointers.org for more information. The club keeps track on completers and offers up a lot of valuable highpointing information. There's even an annual Highpointers Convention.
Why highpoint?
It's an established fact at this point that I am a fan of the outdoors – a big fan. While many of the state U.S. highpoints don't exactly offer up a top-notch backcountry experience (some are a mere stroll from a paved parking lot), some do offer just that and others are at varying levels in between.
Why highpoint?
For me it's simple: Highpointing gets me outdoors, brings me to places in the country that I would have never set foot in otherwise and it is often a great family-friendly activity that I can bring my kids with to experience with me. Highpointing is not always a family-friendly endeavor but it often can be and I've definitely taken advantage of that.
Reaching new heights: My highpoints (in order reached)
Check out my Map and List of all U.S. State Highpoints
Top highpointing resources