Mount Whitney, August 2010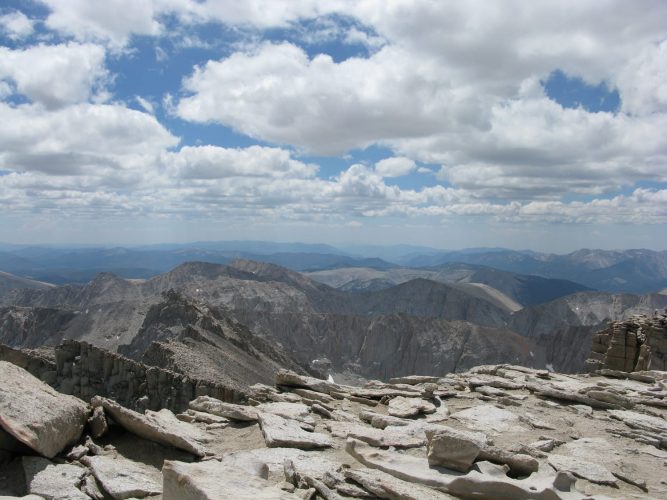 Mount Whitney One Day Climb
When I heard from a friend in July 2010 that she would be unable to use the Mount Whitney permit that she he had secured for late August of the same year, my somewhat dull summer suddenly took a turn for the better.
She had obtained the permit through the Mount Whitney Lottery earlier in 2010 but would be unable make the trip. Sure, I had heard that obtaining a permit through the lottery is not completely necessary as you can often show up the day before and obtain a permit that was never claimed, but I had already determined that I was not willing to take the risk of traveling so far with only a chance to get a permit. I would be traveling from Chicago, and on a tight schedule, so there was little room for error. So, with a permit now in hand, I was grateful to my friend for passing it along and also looking forward to giving it a go on the tallest peak in the lower 48.
Traveling to Lone Pine
For those not within driving distance of Lone Pine, CA and Mount Whitney, three major airports within a reasonable distance: Los Angeles, Reno and Las Vegas. I chose the latter, which includes a drive through Death Valley to arrive at Lone Pine. Did I mention that I was on a tight schedule?
Day 1: Flight Chicago to Las Vegas
Day 1: 4.5-hour drive through Death Valley to Lone Pine
Day 1: Short rest before early start the following day
Day 2: Drive up to Whitney Portal around 3 a.m.
Day 2: Begin Mt. Whitney Trail around 4 a.m.
Day 2: Complete roundtrip hike around 6 p.m.
Day 2: Food!
Day 3: Early morning drive from Lone Pine to Las Vegas
Day 3: Flight returning to Chicago
Whitney Portal to Summit and Back in a Day
Starting at the Whitney Portal (8,300 ft.), I began up gentle switchbacks and crossed over both Carillon Creek and Lone Pine Creek as night slowly turned to morning. The night sky was clear and the temperatures were moderate. All in all, it was a good start.
I reached Lone Pine Lake and then Outpost Camp (both around 10,000 ft.) in decent time and only took a short break before continuing on the trail, which would soon be above the tree line. Once above the tree line, the trail transformed into a steeper, rocky path. At this point I started to feel the elevation for the first time and encountered a hiker who looked to be feeling the elevation as well. I stopped and offered him food and water but he didn't take anything, mentioning that he had no appetite. We discussed the route briefly and then I was on my way to Trail Camp.
The route from 11,000 ft. to Trail Camp at about 12,300 ft. was fairly uneventful but definitely more challenging than the initial sections of the trail. I arrived at Trail Camp feeling good but that feeling quickly dissipated knowing that five miles of trail remained, and, more importantly, the dreaded 97 switchbacks loomed ahead.
I crossed paths with two other hikers, as well as a Ranger who flew by as if on a stroll on the beach, on the infamous 97 switchbacks. From what I could tell, one hiker turned back, one did not. While ascending on the switchbacks, it became very clear to me why this section might very well be the breaking point for many attempting the Whitney day hike.
Once at the top of the switchbacks, I descended slightly to Trail Crest at about 13,600 ft. and took in the tremendous views for a few minutes before being the nearly-3-mile final stretch. Somewhere around 14,000 ft., lack of acclimatization and lack of sleep really caught up with me and my pace slowed considerably the last 500 feet of elevation gain. I took a few extra short breaks during this final stretch and made the summit some time around noon.
See my Whitney Trail route description
A nice day for 22 miles on the trail
The weather cooperated, the trail was virtually clear of snow and ice (only a couple of sections on the switchbacks) and I made it down to the Whitney Portal by 6 p.m. While descending, I crossed paths with the struggling hiker from just above tree line. It appeared as though he would almost certainly reach the summit. Much like it is advised to check into climbing partners' experience (or lack thereof) before heading up a mountain, never fully discount anyone on the mountain, either. You just never know how far will can take someone.
Climb stats
Date of climb: August 2010
Route: Mt. Whitney Trail
Trail distance: 22 miles roundtrip
Elevation change: 6200 ft
See also: Map & list of all U.S. State Highpoints
Photos from this trip