Timms Hill, Wisconsin Highpoint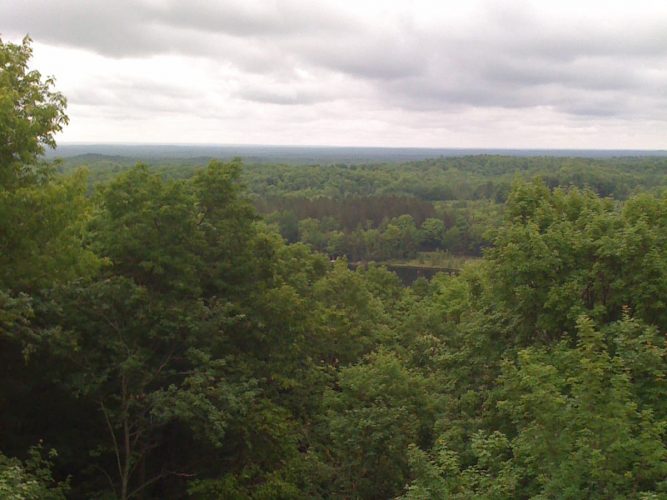 Timms Hill: The highpoint of Wisconsin
Just like any other sane person who happened to be living in the Midwest in 2010, I had a very sane thought one day: Why not drive out to Ogema, WI and check it out?
Why Ogema?
The highpoint of the state of Wisconsin – Timms Hills – sits in Timms Hill County Park in north-central Wisconsin (just outside Ogema), measuring in at just a tad under 2,000 feet.
The county park that houses Timms Hill has over 200 acres of forest, a couple of lakes, hiking trails, and also contains part of the Ice Age Trail, a 1,000-mile trail that twists and turns its way through the state. The Ice Age trail is one of just eleven National Scenic Trails in the U.S. and, from what I can tell, fewer than 60 people have ever thru-hiked it.
The highest natural point in WI
Date of hike: June 2010
The route to this Wisconsin highpoint, however, doesn't make use of the Ice Age Trail. Instead, drive up a nicely paved road to the highpoint parking lot and stroll the quarter mile uphill (a little steep, at that) to reach the true highpoint.
On top of Timms Hills sits two observation towers, one steel tower rising about 65 feet and a smaller wooden tower rising maybe 45 feet in the air.
The act of climbing the steel observation tower gives Timms Hill a more "authentic" highpoint feel, and obviously offers up some much better photo opportunities, as well. Throw a camera in your pocket and head up about 20 yards of steel to catch a nice bird's-eye view of the state of Wisconsin.
Tip: Be sure to check out the High Point Village Resort on your way out (or your way in), too. Good coffee and pickles are there waiting for you, at the very least.
Getting to Timms Hill
Traveling on I-39 north, continue on Route 51 north for almost 40 miles and take exit 225 for County Road S (toward Tomahawk).
After almost 5 miles, take a left at WI-86 (Tomahawk Ave) and follow that for 22 miles.
Turn left on County Road RR, and follow CR-RR to the highpoint. Look for signs to point the way.
Timms Hill quick facts
Timms Hill
Elevation: 1951 ft.
Nearest town: Ogema, WI
Trail distance (estimate): 1/4 mile
Elevation change (estimate): 140 ft.
Related: Map and List of all U.S. State Highpoints
Photos from this trip