Mount Rainier, June 2008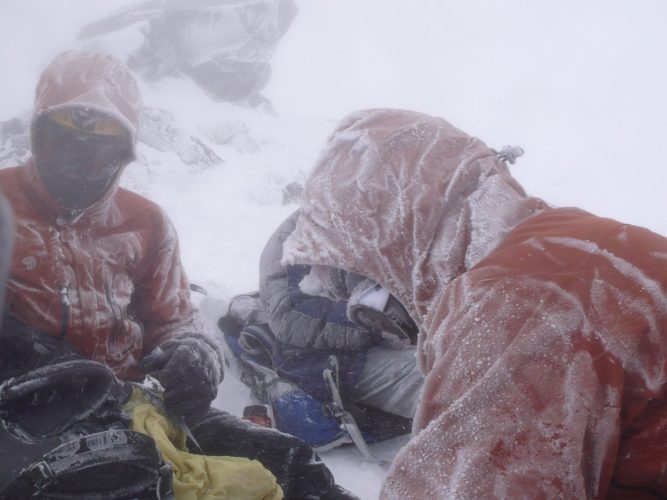 The Mountain: Mount Rainier
Living in Seattle, Mount Rainier sat in my backyard for more than five years. Despite the approximate 50 miles separating us, each time The Mountain was out (as the locals like to say), the summit seemed within reach for some odd reason. Yep, every time the clouds parted and gave a clear view to the Southeast I couldn't help but thinking about giving it a shot; I knew a Mt. Rainier summit bid would come eventually. But when? And how exactly?
In those clear-skied moments, Mt. Rainier would sit there and laugh at me. You? Yeah, right! Sure, go ahead and give it a try. I wasn't sure how to get there, but I knew where I wanted to be.
Growing up in the flatlands of the Midwest, I didn't have much mountaineering experience. In fact, I had virtually no experience when I moved to Seattle in 2002. Sure, I'd hiked some decent trails and reached the top of a few smaller Cascade peaks between 2002 and 2008. But when the time came to climb Mt. Rainier in June 2008, I was still at the low end of novice when it came to anything related to mountaineering. Because of my inexperience, I decided to go up with a guided service and strongly recommend it to anyone in the same position.
Climbing Mount Rainier, Part I
The Mt. Rainier summit climb was a two-day affair, and thankfully so, as the climb from start to finish is typically at least 7 miles long and includes 9,000 feet of elevation gain! In my limited experience, I had come across hikes that included maybe 3,000 feet of elevation gain over three to five miles, but this was a whole new level of mountaineering I was about to experience.
The route was to be the most popular (and the easiest) one to the summit: Paradise to Camp Muir to Ingraham Flats to Disappointment Cleaver to the summit of Mount Rainier.
After traveling by car up to the Paradise Visitor Center, which sits at an elevation of about 5,400 ft., we embarked on the first part of the climb – the hike from Paradise to Camp Muir. Camp Muir is approximately 4.5 miles from Paradise and sits at an elevation of just over 10,000 ft. We began on the Panorama Point Trail but the bulk of this first half of the climb takes place on the Muir Snowfield. The Muir Snowfield, a broad snowfield that gains about 3,000 ft. in elevation, is popular with both skiers and hikers and is obviously a popular thruway for summit seekers. I remember this hike from Paradise to Camp Muir taking at least 8 hours, moving at a moderate but steady pace with regular breaks.
About the Muir Snowfield: The Paradise to Camp Muir is a somewhat popular trek so the Muir Snowfield can be relatively crowded in the peak months. But don't let the crowds and unassuming, comfortable and cozy sounding "snowfield" name allow you to let your guard down. Come prepared if you plan a hike here, as storms can roll in and put you in a precarious situation in a heartbeat. And late in the climbing season, the snowfield can turn into more of a broken-up field of ice.
Camp Muir, which sits above the Muir Snowfield and between the between the Paradise and Nisqually Glaciers, is the most popular basecamp used by those attempting the Rainier summit. A climbing permit is required for anyone climbing above 10,000 ft. We were lucky enough to have access to one of the huts up there (the guide service) but you can also camp up there. You can reserve a campsite in advance.
At Camp Muir (10,060 ft.), we ate some dinner and then retired to the bunks in the hut with our sleeping bags for some sleep before the alpine start for our summit bid. I suppose some climbers caught a few winks but I was definitely not in that group of dreamers. I lay there wide awake waiting for the clock to hit midnight. At first, I was thankful to be allowed to bunk with my fellow climbers in the sturdy stone hut out of the wind, but I soon found myself dreaming of my own tent. Let's just say different people deal with stress in different ways. You've got the type who pass out (good), the type who need frequent bathroom breaks (bad) and the type who talk nonstop (very bad). We had them all. What category did I fall into? Let's go with the silent, sleepless, impatient type.
While the winds at Camp Muir were probably in the 10- to 20-MPH range, the weather had cooperated well up to this point. The weather would not remain so friendly the remainder of the way.
Climbing Mount Rainer, Part II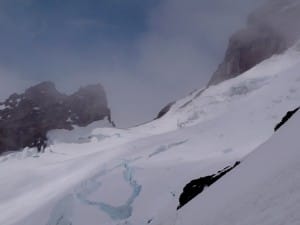 Shortly after midnight we prepared for the roped climb to come on the stone and ice above by putting on various layers of clothes, crampons, gaiters, harnesses, helmets and headlamps. Gaiters on backwards? Check. Lost headlamp? Check. Fumble with harness for way too long? Check. I did manage did get my crampons on with little trouble. I had practiced putting on and taking off my crampons in the dark in preparation for this climb. We roped in teams of four and started upward.
With the night sky relatively clear and the winds relatively calm, we headed out of Camp Muir and traversed across the Cowlitz Glacier to reach the Ingraham Glacier. This late-night/early-morning start on the glaciers under the sky of stars turned out to be perhaps my most memorable (in a good way) part of climb. We climbed with relatively little trouble and all of elements for a successful summit bid seemed in order.
Once above Cathedral Gap we decided to a break near the Ingraham Flats. It was around this place and time that the weather started to turn for the worse. Writing this now four years post-climb, I can't pinpoint exactly when the weather turned for the worse, but I do remember things changing right around this point in time. After the short break on the Ingraham, we headed to oft-mentioned and oft-traveled Disappointment Cleaver.
As we made our way from the bottom to the top of Disappointment Cleaver, the weather took another turn for the worse. It helped that some of the more precarious portions of Disappointment Cleaver were already set with fixed ropes. At the top of the Cleaver, after heading up the steep turns of rock and ice, we took another short break. Visibility was poor and winds were gusting up to maybe 30 to 40 MPH but we decided to make the push to the crater rim.
The final stretch of steep climbing on the Emmons Glacier up to the crater rim was slow and difficult with the less-than-perfect weather conditions. Right before our final push to the top, I finally caught on to our guide's strategy of telling us that we were maybe "30 minutes or so" away from [destination]. After telling us that we were "30 minutes or so" from the crater rim, I prepared myself for at least an hour of uphill battle. We couldn't see more than a few yards ahead, so I really couldn't see how much farther we had to go. Maybe it was better that way?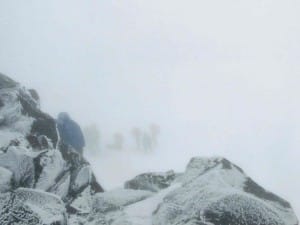 After maybe 2 hours (my sense of time was a little off at this point) of stubbornly climbing this final stretch one rest-step at a time, we arrived at the crater rim with wind and snow still swirling. The last 20 yards are so were particularly memorable – I tried to kick it into high gear instead of maintaining the same slow, steady pace and but realized that I had no "high gear" – only a series of low gears – and felt like I was being suffocated by my balaclava. Whether or not this final stretch was supposed to be difficult, it definitely turned out to be – visibility was poor, winds were high and my energy depleted.
At the crater rim, conditions were poor enough that we decided not to make the 20-minute hike over to the true summit (Columbia Crest), so I didn't officially summit Mt. Rainier. Even so, arriving at the rim of the summit crater was a major milestone, so I gladly took it all in the best I could in the few minutes we spent up there.
The weather straightened out on the way back down to camp from the rim. We spent maybe another hour (at most) in less-than-ideal conditions before things cleared up, which made our journey back down an easier endeavor. We arrived at Camp Muir approximately 12 hours after we departed. After about an hour break at camp, we trekked down the Muir Snowfield back to Paradise.
All told it was a tremendous climb and very memorable experience, and I feel fortunate that I was able to experience Rainier for all that it has to offer – both good and bad. I plan to be back on these glaciers many times in the years to come.
Climb stats
Date of climb: June 2008
Route: Camp Muir / Disappointment Cleaver
Trail distance (estimate): 7 miles (14 roundtrip)
Elevation change (estimate): 9000 ft.
See also: Map & list of all U.S. State Highpoints
Photos from this trip