Campbell Hill, Ohio Highpoint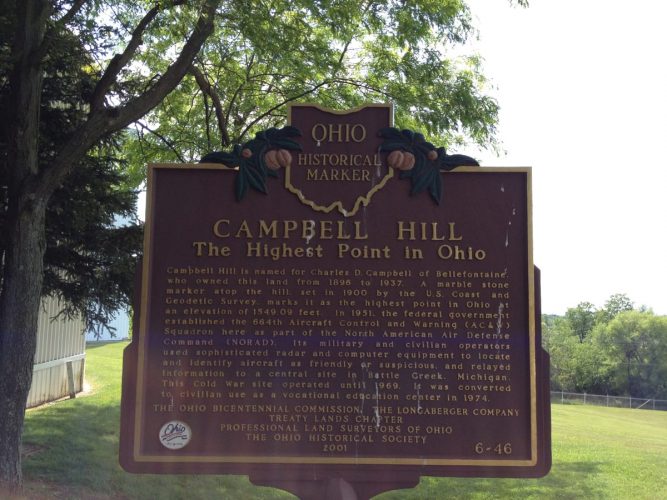 Campbell Hill: The highpoint of Ohio
Indiana and Ohio are both relatively large states, so it's noteworthy (and convenient) that each state highpoint sits about a two-hour drive from the other. Once we decided to visit Indiana's highpoint, Hoosier Hill, it was almost a given that we'd be visiting Ohio's highpoint, Campbell Hill, soon thereafter.
The highest natural point in OH
Date of hike: June 2012
Campbell Hill can be found in the northeast section of Bellefontaine, Ohio. Bellefontaine is a fairly large town, at least larger than we expected after reading some short descriptions of this highpoint area.
Campbell Hill is a broad hill on nicely maintained property. The hill itself is on the property of the Hi Points Vocational School, which was once the grounds of a military government center operated during the Cold War.
You can see it from the road – watch for it on your right after passing Hi Point Church on your left. Once within the Hi Points Vocational School property, a parking lot leads you right ot the foot of the hill.
The route took us through some small Ohio towns that we would never have set eyes on if not for highpointing. This defines the true essence of highpointing: going places you would have never gone and seeing parts of the country you never would have seen.
Sure, some state highpoints offer quite an experience through the act of hiking/climbing the mountain or hill in front of you, but others offer up the experience through the journey to arrive at the right location. I'll say that Ohio fits the bill with the latter description.
Getting to Campbell Hill
Reach Bellefontaine via HWY 33. From HWY 33, exit Route 540 (E Sandusky Ave) and travel northeast. Campbell Hill is less than a mile up Rte 540 on the right side of the road. Enter the Hi Points Vocational School parking lot and park at the foot of the hill.
Ohio Hi-Point Career Center
2280 Ohio 540
Bellefontaine, OH 43311
(937) 599-3010
Campbell Hill quick facts
Campbell Hill
Elevation: 1550 ft.
Nearest town: Bellefontaine, OH
Trail distance (estimate): 300 ft.
Elevation change (estimate): 150 ft.