Kings Peak, Utah Highpoint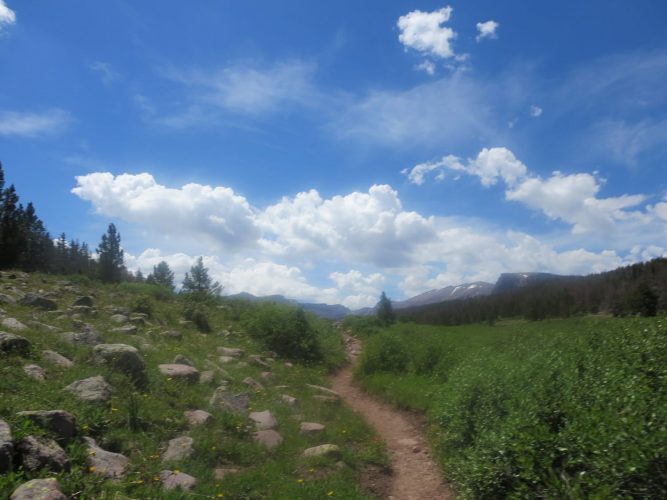 Hiking Kings Peak via Henrys Fork, July 2014
One word comes to mind when thinking of Utah's Kings Peak: investment. In order to climb this peak and stand atop the state of Utah, you'll need to be willing to invest a decent amount of time and energy. But it's all worth it in the end.
Kings Peak, the highest mountain in Utah
There are only four state highpoints in the contiguous U.S. that stand taller than Utah's Kings Peak – California's Mount Whitney, Colorado's Mount Elbert, Washington's Mount Rainier and Wyoming's Gannett Peak.
Not only is Kings Peak tall by contiguous U.S. standards – 13,528 feet to be exact – but it also takes a minimum of 30 miles roundtrip to hike to its summit. And that doesn't count the 20 miles of driving down remote dirt roads in Wyoming to get to the trailhead.
For this trip, I chose to begin at the Henrys Fork Trailhead and head thru Gunsight Pass, Anderson Pass, and ultimately to the summit.
Getting to the Henrys Fork trailhead
Because the High Uintas Wilderness, in which Kings Peak lies, resides far north in the state of Utah, you much first travel up into Wyoming (assuming you're starting in Utah) and then travel back down south into the Uintas.
Starting in Mountain View, WY, head south down State Route 410 towards the town of Robertson, WY. Follow Route 410 for about 7 miles until it makes the second sharp right bend where there is a sign for Robertson. Head south onto what is now a dirt road. Follow this for about 12 miles and turn east onto FR 077 (look for signs to Henrys Fork). Follow this for about 11 more miles and then head west for the final mile to the trailhead. There are at least two parking areas.
Henrys Fork to Dollar Lake
Starting at Henrys Fork, and an elevation around 9,300 feet, I started winding my way through the tree cover and stepped aside for a couple of crews on horseback. After about 5.5. miles I arrived at the first major junction.
At this point, a right turn takes hikers on a longer path that passes by a number of alpine lakes. A left turn stays on the Henrys Fork Trail and takes hikers up to Dollar Lake.
I took the left, dropped down to the river, headed over the footbridge, and started making my way up to Dollar Lake.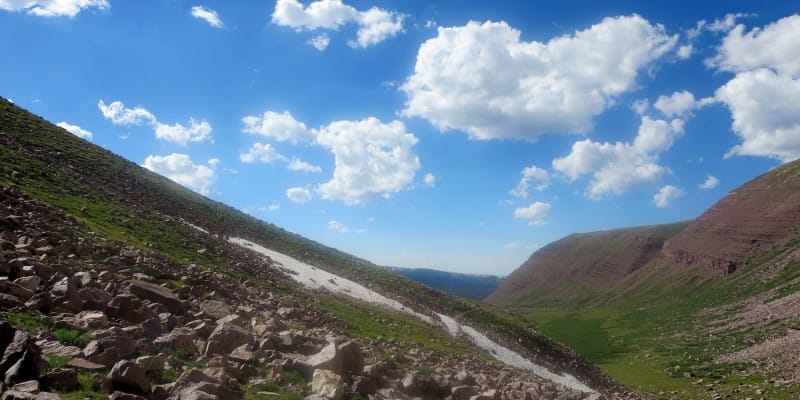 Dollar Lake to Gunsight Pass
Much of what I read prior to the trip mentioned Dollar Lake as a great camping spot for two-day Kings attempts. But it seemed a little far away and I still had a lot of daylight to work with, so I continued up toward Gunsight Pass.
About halfway between Dollar Lake and Gunsight Pass, I came across a backpacking group that was using goats to tote much of their gear. I talked camping spots with the group and secretly envied them as I put my heavy pack back on.
Shortly before reaching Gunsight Pass, I picked out a bivy spot and unloaded my gear. With a few additional hours of daylight left, I climbed to the top of Gunsight Pass and caught some nice views of the Painters Basin while scouting the route for the next day.
Gunsight Pass to Anderson Pass
I had heard of two different "chute" routes that shave miles off of the Gunsight-to-Anderson-Pass section of the climb and had found both areas in my scouting, but decided that with an early start, I'd take the "scenic" route through Painters Basin and back up to Anderson Pass.
Starting before dawn, I was over Gunsight Pass and into Painters Basin before I knew it. I eventually met up with the Highline Trail and swept around to head up to Anderson Pass. As I started this steeper section (about 2,500 feet of elevation gain in a couple of miles), I noticed a dark and somewhat menacing sky up above. I picked up the pace.
But shortly after taking note of these dark skies, I noticed that it also smelled strangely like a wood fire stove. Ah yes, a nearby forest fire was causing the visibility issues. I had experience on big mountains and forest fires on Mount Shasta about two years earlier. With eyes burning a little, I picked way through, losing the "trail" a few times on the final shelf but never unsure of where to go next.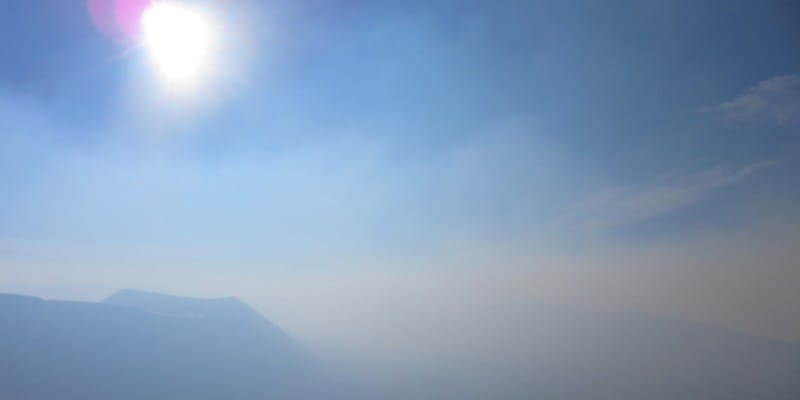 Anderson Pass to the summit
I passed the goat group's campsite in Painters Basin (their campsite was way better than mine) on the way up but they weren't stirring yet.
From Anderson Pass, the summit of Kings Peak sits just under a 1,000 feet above to the left. I hiked, scrambled and boulder-hopped my way up the final stretch without another climber in sight.
Summit!
Finally, a return on my investment – but no real views. At the summit, the views were obscured by thick forest fire smoke, so I spent a few short minutes up their before turning to head down.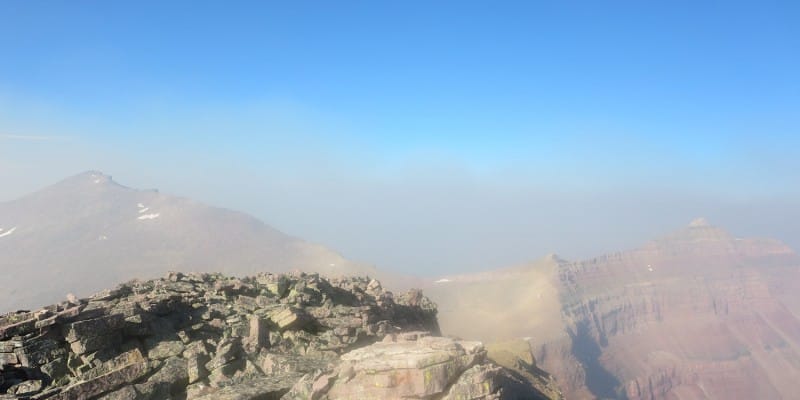 An added bonus
Because of my early start and convenient campsite close to Gunsight Pass, I decided that I had enough time left in the day to head up one of the neighboring unnamed peaks and snap a few photos of Kings Peak.
The one-hour investment was well-worth it, as I was able to get a new perspective of the area and snap a few eerie photos of Kings popping out as the smoke cleared in the early morning sun.
Hike stats
Date of climb: July 2014
Route: Henrys Fork/Gunsight Pass/Anderson Pass
Trail distance (estimate): 33 miles roundtrip
Elevation change (estimate): 4,250 ft
See also: Map & list of all U.S. State Highpoints
Photos from this climb