Worm Flows Route, Mount St. Helens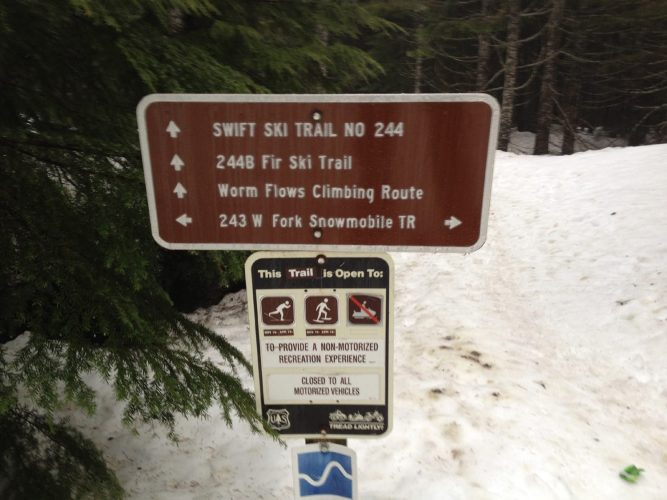 Mount St Helens Worm Flows Route
Despite losing more than 1,300 feet of elevation in its notorious 1980 eruption, Mount St. Helens can still be a challenging climb, especially in winter. The Worm Flows Route is considered the standard winter route on St. Helens, as it is the most direct route to the summit.
This route has significant mileage and elevation gain – it gains about 5,700 feet in elevation over about 6 miles from trailhead to summit – but does not demand the technical climbing that some other Cascade peaks do. The "Worm Flows" name comes from the rocky lava flows that surround the route.
Start at Marble Mountain Snow-Park
Many summer routes on Mount St. Helens begin at Climber's Bivouac, but the Worm Flows Winter Route begins at the Marble Mountain Snow-Park. After parking at the Marble Mountain Snow-Park, head up the Swift Ski Trail (#244), which is right about at the middle of lot, and follow this well-marked and well-maintained trail through the forest.
After about 2 miles and about 1,000 feet of elevation gain, arrive at Chocolate Falls. The terrain changes considerably shortly after this 40-foot waterfall, so it's a good place for a break and to add/remove gear if necessary.
From Chocolate Falls
From Chocolate Falls, follow wooden signs and some cairns on open slopes and through the lava flows toward the crater rim. At about 4,800 feet, you'll pass a sign reminding climbers of the necessity of permits and in about another 800 vertical feet you'll pass a small weather station.
Once reaching the unfortunate false summit, follow the rim west to St. Helen's true summit. Take in the enormity of the volcanic event that happened not long ago by peering into the enormous hole left behind. And don't forget to catch views of Mount Rainier, Mount Hood and Mount Adams – among others – on this route.
Gear for the Worm Flows Route
Standard winter mountaineering gear is recommended for this route: crampons, ice axe and extra layers of clothing. Snowshoes can also be helpful in the early miles of the ascent.
My trip reports from this route on Mount St. Helens
Route info
Time of Year to Climb: Best in winter
Route: Worm Flows Route
Trail distance (estimate): 12 miles roundtrip
Elevation change (estimate): 5,700 ft
Photos from this route