Mount Si Trail, Mount Si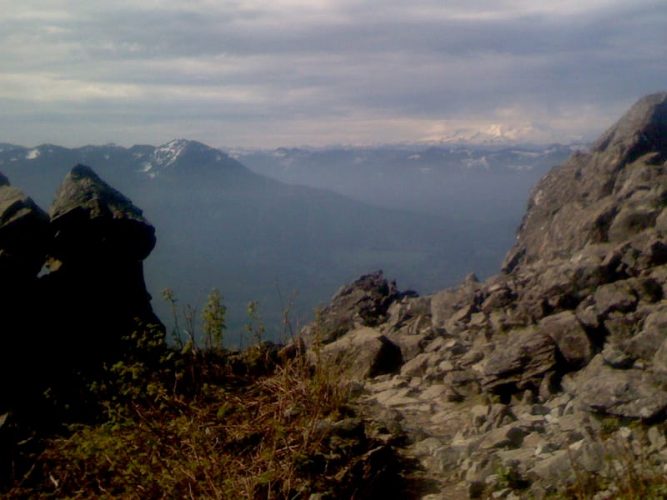 Mount Si Trail on Mount Si
I'm sure there are many things to do in North Bend, but I know of just two: eat cherry pie and hike Mount Si. North Bend is perhaps best known for its connection to the infamously strange Twin Peaks series filmed by David Lynch back in the late 1980's and early 1990's, but its connection to local peak Mount Si is also well documented.
Mount Si attracts upwards of 100,000 hikers each year and the vast majority of those hikers head up the Mount Si Trail. There are a number of reasons for Mount Si's popularity – it's proximity to Seattle and its highly-populated suburbs, the fact that is snow-free for a larger part of the year than other bigger peaks nearby, and its use as a training ground for tougher climbs in the region.
Nearby Mailbox Peak and Mount Si are both known to be a popular spot for climbers training to attempt Mount Rainier and other better-known Cascade Range Peaks like Mount Hood, Mount Baker, and Glacier Peak.
Can't-miss trailhead parking area
Starting at the large trailhead parking area, head up the clearly marked trail as it climbs upward with moderate steepness for about the first mile. This first mile takes you up to about 1,600 feet of elevation and is a little deceiving – for steeper sections are about to come.
Halfway
Slightly before the halfway mark of this four-mile trail, you'll arrive at somewhat flat region of the trail. A small creek runs parallel to the trail at certain points. This is a great place for a break before the final two-mile push up steep trails.
Continue putting one foot in front of the other as the trail alternates between steep sections and steep sections. Continue up the switchbacks and don't forget to take the occasional quick break to peak through the trees and enjoy the views. Sure, there are steeper trails in Washington, but don't take this trail lightly. Continue up the trail until you reach the summit ridge, which is marked by boulders that are seemingly increasing in size with each step.
"Haystack"
Some hikers decide to call it a day here, after about 3,400 feet of elevation gain. The more adventurous climber might take a stab (if the conditions are right) at climbing the "haystack" to gain the final 300 feet and sit on the true summit of Si. Getting to the top of the haystack involves a class 3 scramble (usually up the north side), so take it seriously if you do give it a go.
Whether at the bottom of the haystack or the top of this summit block, take a nice long break – you earned it. Plus, you've got four miles downhill until reaching the car.
Tip: Go early – and I mean early – to beat the crowds on Mount Si. I'm talking get-to-the-parking-area-an-hour-before-dawn early. This is especially true on weekend days and/or days that are supposed to have good weather (according to local weather expert Steve Pool, of course). This peak has a bad reputation of being overly crowed for good reason.
My trip reports from this route on Mount Si
Route info
Time of year to climb: All year
Route: Mount Si Trail
Trail distance: 8 miles round trip
Elevation change (estimate): 3,700 feet