Shorty's Well to Telescope Peak, February 2014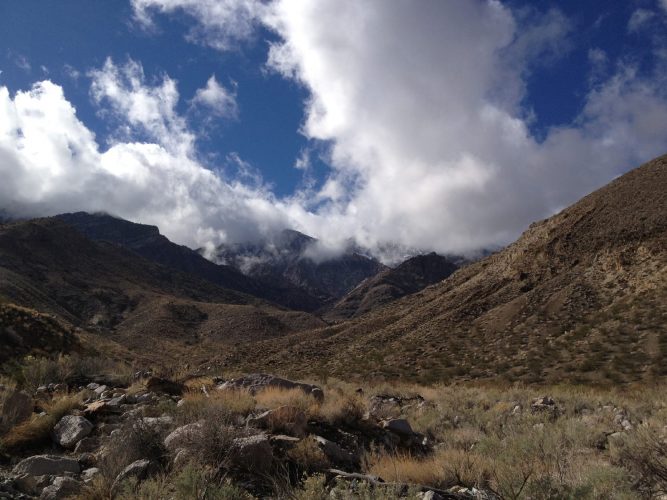 Telescope Peak via Shorty's Well
Doing research prior to this expedition, I read things calling it the "most unique mountaineering route in the world" and the "toughest mountaineering route in the continental U.S." My quick response to those statements: It's tough to label anything "XYZ in the world," but I do think there is some truth to both of those statements. My detailed response to those statements: Read on.
Standing very close to the lowest point in North America as the sun rose over eerily quiet Death Valley, Telescope Peak seemed very, very far away. Right there, not long after dawn, it dawned on me: it seemed very, very far away because it was, in fact, very, very far away. If we were to reach our ultimate destination, the summit of Telescope Peak at 11,049 ft., we were going to have to hike and climb a minimum of 15 miles and gain a minimum of 11,311 ft. in elevation in the process.
Badwater Basin in Death Valley, at 282 feet below sea level, is the lowest point on the North American continent. We were starting our expedition near Shorty's Well, which rests only about 20 feet higher than this well-known lowest point, or at approximately 262 feet below sea level.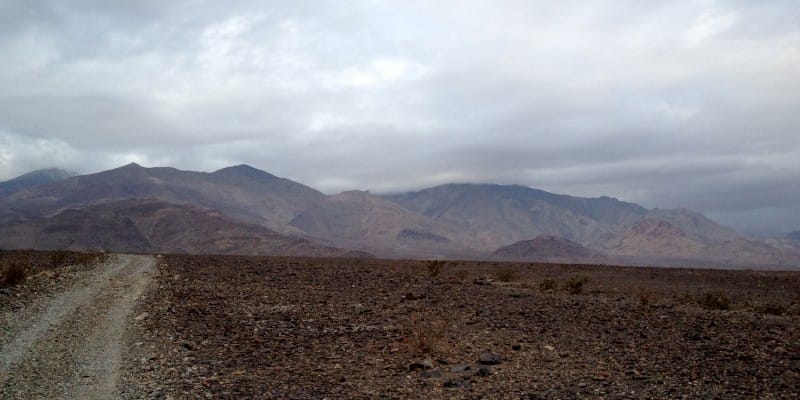 The first six miles
The first six miles of this infamous route, which follows an old mining road west as you head into Hanupah Canyon, ended up being perhaps the most boring and tedious. Lugging my 50lb+ pack up this stretch was tiring despite the relatively modest incline.
I packed in six liters of water due to the uncertainty of finding a reliable water source on route and also packed for the possibility of having temperatures ranging from 70 degrees F to maybe -10 degrees F. This all added up to a lot of weight on my back.
See also: Shorty's Well to Telescope Peak Gear List (Winter)
The low point
Sure, we were very close to the lowest point in North America at the start of our climb, but that was not the low point of the expedition for me. The low point, at least mentally, came about 7 miles into the climb, once we reached the canyon and spring. After hours battling stiff crosswinds, rain and packs that were at least 10 to 15 pounds heavier than necessary to guard against the possibility of having no water source, we looked up at the towering peak about 8,000 feet above us to the west.
A wrong turn
We had read maps, we read multiple trip reports about this route, and we had inquired about the route and conditions to other mountaineers prior to the trip. Still, we took a wrong turn. We made one bad route-finding decision and, in the end, this decision ended up squashing our chance at a Telescope Peak summit. Shortly after reaching the spring (approximately 7 miles in) we decided to turn left and head up some old mining roads.
Our other option was to turn right and head up a steep scree/talus slope. The right turn/talus option looked much less inviting and we decided to follow some advice read online that suggested to head up the old mining roads. Summary: Don't turn left, turn right!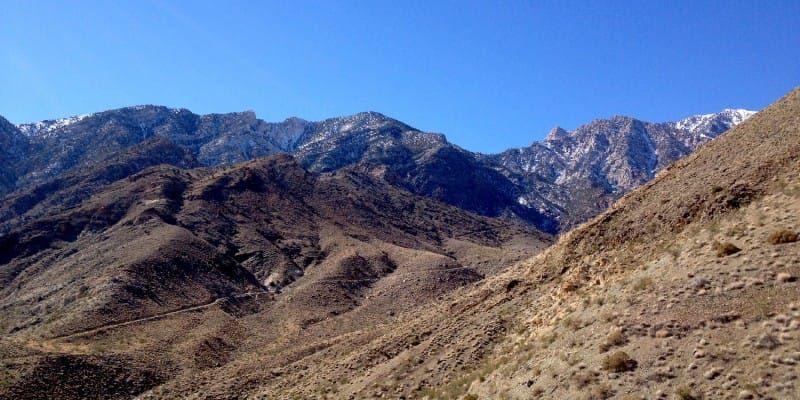 Summit day?
After about 11 hours on trail and after approximately 12 miles and 6,000 feet of elevation gain, we called it a day and set up camp. At this point, we were questioning the route but still believed that, at the very least, we could perhaps be on an alternate route that could end of the summit of Telescope Peak.
We started the next day before dawn and ended up climbing maybe another of 1,500 vertical feet before agreeing that we were definitely off route and it was time to turn around. This stretch involved the most difficult climbing of the trip and involved a lot of route finding. The strange mine hanging on the side of a cliff about 7,000 feet up an unnamed peak that we discovered was an added bonus, but it did little to make up for our realization that a summit was now out of the question.
Summit bid turned scouting trip
We spent the remainder of the early afternoon scouting what we believed to be the correct route – the route that, in retrospect, should have been clear to us about 24 hours earlier. After spending a little under an hour ascending a steep class 3 scree slope to the north of the spring, we were confident that we had, in fact, discovered the route that had eluded us for the past day. We turned and headed east for the final seven miles back down to Shorty's Well.
Final tally: 34 hours on the trail; approximate 50lb packs; 26.8 miles; 10,420 feet in elevation change.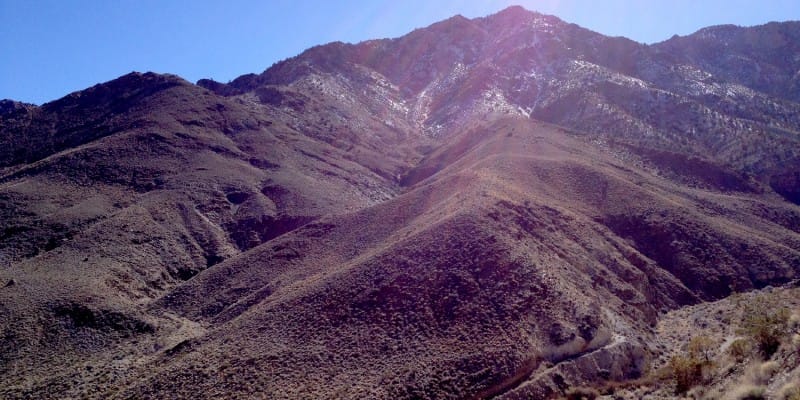 Final thoughts
This route forced me to bring all of my outdoors experience to the table for one single climb: backpacking, hiking, climbing, scrambling, winter camping and more. It's a tough mountaineering route – very tough. The toughest? In my experience thus far, I say it's either the toughest or second-toughest behind Mount Rainier. Impossible? I say not. If you do decide to check out this route in person, be prepared for a memorable climb that will definitely put you to the test.
Important notes
The spring near Shorty's Mine seemed extremely reliable on this trip. Whether or not this is the case 365 days per year, I don't know. But I do know that if I head back to this region, I'll take my chances and carry much less water on the way in. Worst case scenario? The spring is dry and the expedition ends there. I'd prefer that to an additional 10 or 15 pounds on my back.
Under no circumstances should you travel up the old mining roads heading south from Shorty's Mine. I repeat: Avoid the old mining roads heading south from Shorty's Mine.
In fact, forget all the talk about Shorty's Mine completely. The mine is actually off route and it's completely unnecessary to even know where it is.
Photos from this trip