Old Rag Mountain, November 2013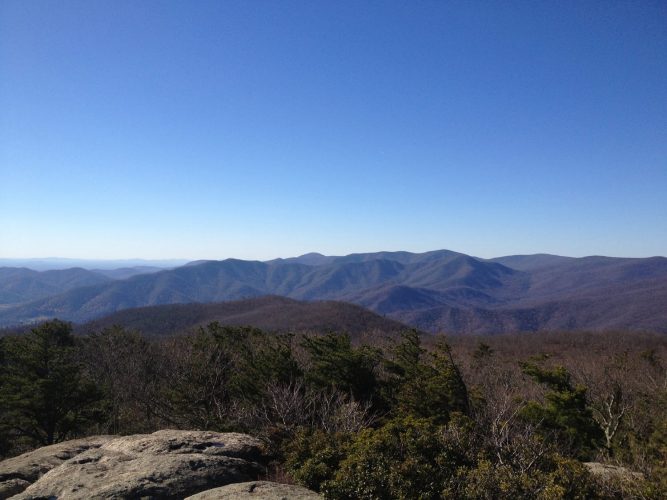 Old Rag Circuit Hike / Scramble
The months of October and November are popular times for hikers from Washington, D.C., Maryland, Virginia and other nearby states to visit the Blue Ridge Mountains and Shenandoah National Park due to the cooler temperatures and, more importantly, the tremendous fall colors that fill the landscape.
I had the opportunity to visit one of the more popular spots in the region, Old Rag Mountain, on a day with unseasonably warm weather for mid-November. Not only was the weather dry, sunny and warm, but due to my early Monday morning start, I nearly had the trail to myself.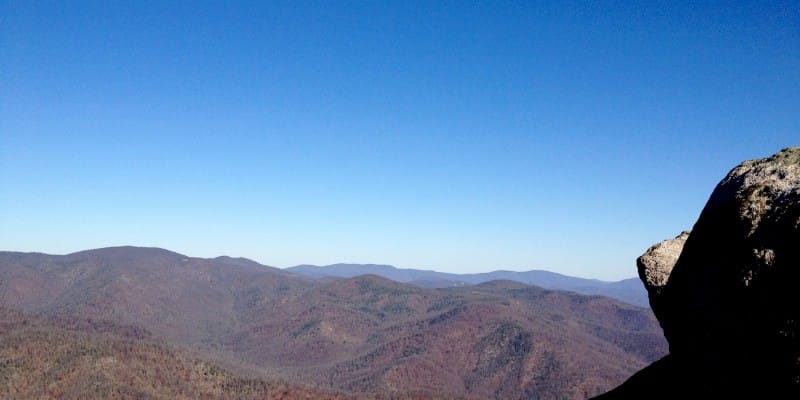 Old Rag: Not your standard day hike
I had heard that Old Rag was far from an easy hike, mostly due to its rocky upper reaches that require scrambling to reach the summit. With this in mind, I opted to test out the defined Circuit Hike and therefore tackle both its standard trail sections along with its more difficult scrambling sections in one trip.
I arrived at the lower Old Rag parking area (the upper parking area is no longer accessible), paid the $8 permit fee and headed up the road for just under a mile to reach the now-closed upper parking area and the official start of the trail.
Now on the trail, I hiked up the nearly two miles of switchbacks with little trouble as the sun rose higher in the sky. The trail was both well-maintained and well-marked. At this point, about three miles in from the parking area, big boulders started to show up and the trail transformed from a hike to a scramble.
I secured my trekking poles safely in my pack and started the approximately 1.5-mile scramble to summit. This section of the trail did not disappoint, bringing both some challenging scrambles and excellent views of the surrounding Shenandoah National Park. There were maybe a half-dozen points of note during the scrambling, but nothing insurmountable.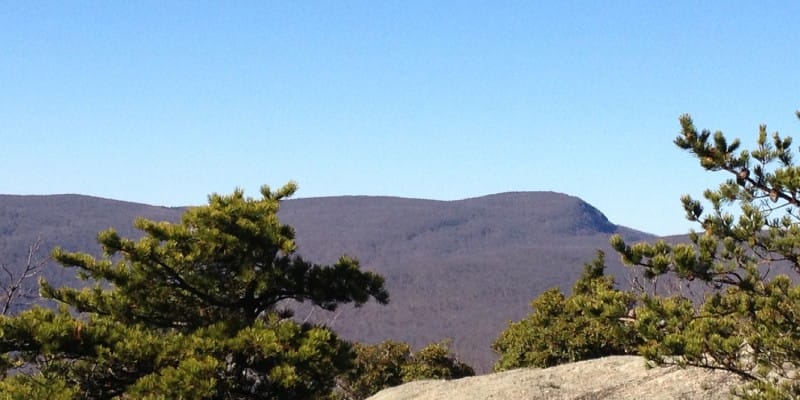 I reached the summit around 10:15 and spent about 30 minutes up there, taking in the warm, sunny weather while trying to capture the 360-degree views with my phone camera. To complete the circuit, I headed south on the Ridge Trail from the summit to Saddle Trail and ultimately Weakly Hollow Fire Road. The route back to the trailhead was well-marked and easy to follow.
See my complete Old Rag Circuit Hike route description
From what I've read about hiking Old Rag, that fact that I only encountered three people on the trail the entire day may be the most noteworthy point of this hike. Waning fall colors, clear skies, 60-degree temperatures, and empty trails – works for me.
Hike stats
Date of climb: November 18, 2013
Route: Old Rag Circuit Loop
Trail distance: 9 miles roundtrip
Elevation change: 2500 ft.
Photos from this trip